Laser hair removal is one of the most common aesthetic medicine practices. Absorption of the laser beam by hair follicles results in their destruction and permanent hair loss. Laser hair removal can be performed at most part of the body fast, safely, effectively and painlessly throughout the year with the Soprano Ice Alma Lasers we use in our clinic.
Laser hair removal has numerous advantages – among which:
Accurate treatment, by targeting hair follicles only leaving the surrounding skin intact.
Fast treatment, as every laser pulse destroys many follicles at the same time. So a very small area may require only a few minutes of treatment, while very large areas – such as legs or backs in men – may take about 90 minutes.
Predictable results when treatment is applied with the appropriate Laser Machine in a safe environment and by a well-trained operator.
Permanent results because Laser targets the point of hair birth minimizing its life cycle is minimized and weakening it. So, at the end of treatment, only one repeat session is necessary over long periods of time to maintain the result.
Soft skin without injuries, unlike several other hair removal methods.
Painless when applied by well-trained health professionals using certified medical Laser such as Soprano Ice.
Alexandrite laser hair removal
Soprano Ice laser treatment offers dual technology combining two wavelengths: diode (810) and Alexandrite (755) laser. Hair removal is performed through photothermolysis, where the beam emitted by the laser is absorbed by the melanin in the hair follicle. Soprano Ice laser destroys hair from its root and its ability to regenerate without affecting the tissue.
Laser effectiveness and the number of sessions required for a satisfactory result depend on several factors. The importance of operator experience and expertise is a fact; and so is session orderliness as laser hair removal technology is based on the three phases of the hair lifecycle: (i) the anagen phase, i.e. hair growth; (ii) the catagen phase, i.e. hair life; and (iii) the telogen phase, i.e. hair fall. Soprano Ice laser is effective at the first phase, which is different in each subject and body part.
In addition, Soprano Ice laser effectiveness depends on gender of subject, the phototype, i.e. skin color, hair quality and any hormonal disorders.
Hand hair removal
Either Soprano Ice laser hair removal can be applied to the arms, especially arms, forearms, upper palm and fingers, in both men and women, either for total hair removal or hair thinning.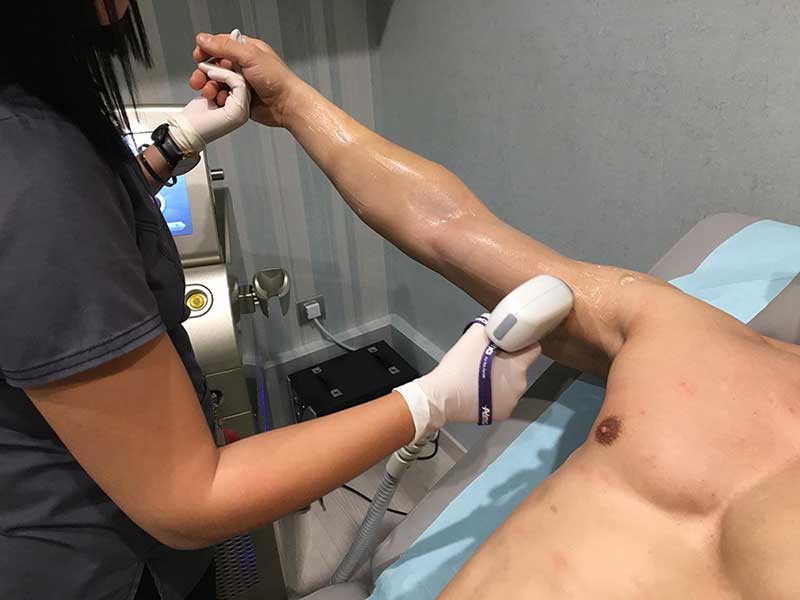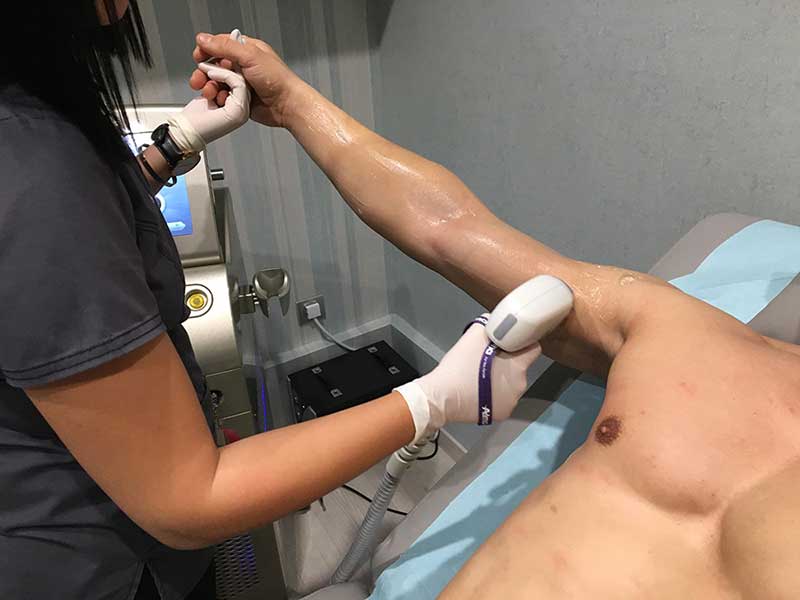 Leg hair removal
Soprano Ice laser is effective on the legs, calf or thighs separately or even on the whole foot, depending on preferences and the desired effect.
Face hair removal
Face hair removal is a sensitive treatment with possible hormonal disorders hindering a uniform effect. Soprano Ice with the two wavelengths (Alexandrite and Diode) is successfully applied to chin, throat, mustache, without any undesirable side effects.
Bikini hair removal
Laser hair removal in the sensitive area of ​​bikini is without any pain, irritation and burn risk. Whether partial or total hair removal, the session shall be comfortable, side effects almost zero and the result permanent.
Armpit hair removal
Soprano Ice laser technology guarantees armpit hair removal without any lymph node involvement. Alexandrite laser affects hair follicles on the surface of the epidermis, while lymph nodes are in deeper layers.
Men chest hair removal
Hair removal is often the only solution for men with intense hair growth suffering from frequent folliculitis. Soprano Ice laser is painless and long lasting. Hair removal with the double wavelength technology of Diode and Alexandrite laser can achieve either partial or total hair removal.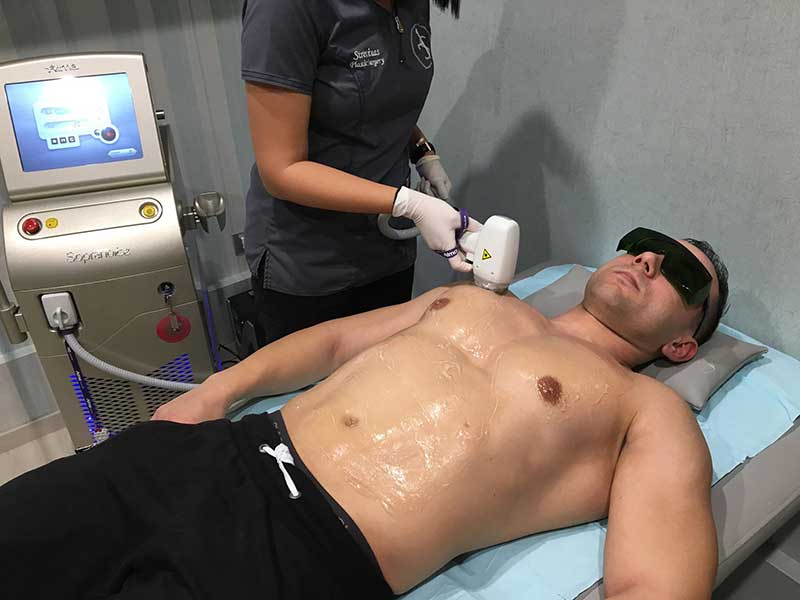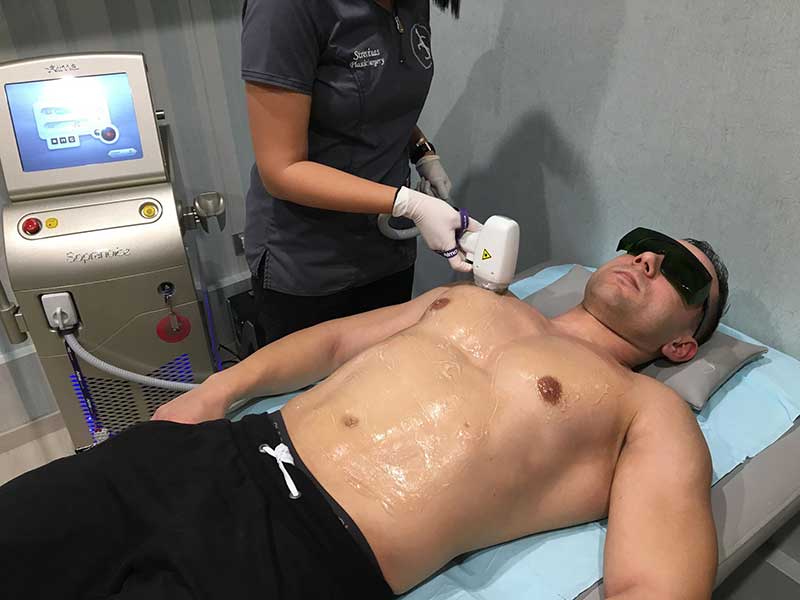 Men back hair removal
Hair removal with the Soprano Ice laser can offer you a smooth back, free of irritation, aesthetically and functionally improved by reducing sweating and consequent skin irritation.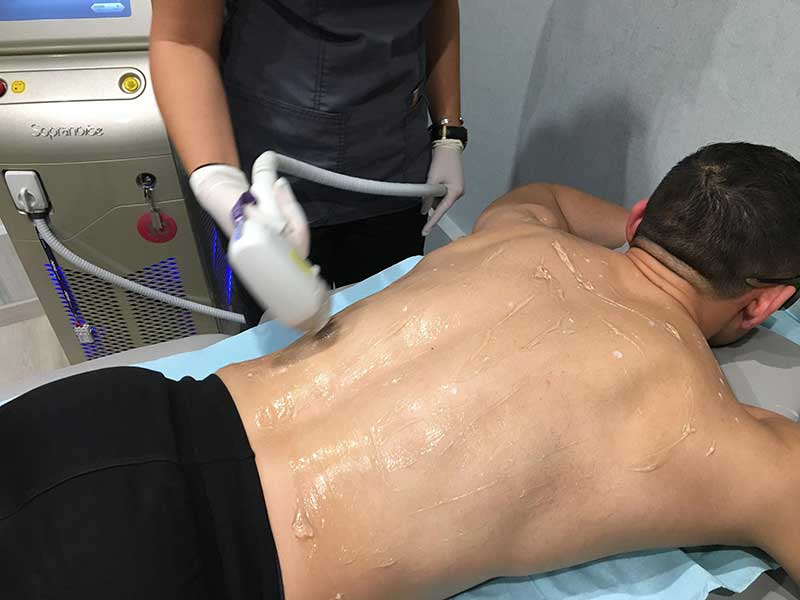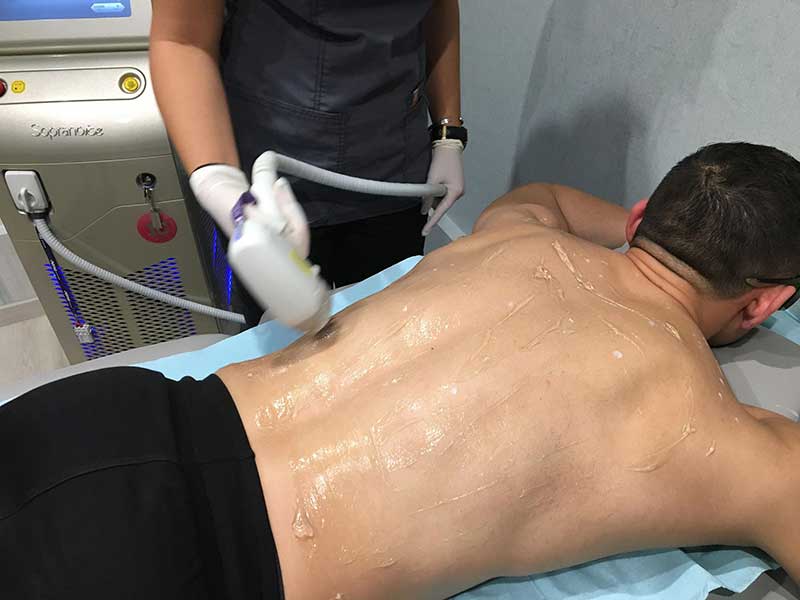 Soprano ICE treatments are:
Trully painless: no need for any anesthetic creams or other preparation.
Long-lasting results: Minimizes the need for any future sessions.
Fast: Treatments are faster even in areas like legs and backs.
No recovery time: You can immediately return to your everyday activities
Suitable for all skin types: Even for sun-tan skin and different hair types.
Suitable for every body part: Even for the most sensitive areas such as face, neck and bikini line.
Safe and effective for all skin types
It is clinically proven that Soprano ICE makes laser hair removal treatment safe, comfortable and suitable for all skin types throughout the year.
Previously, this required long, lasting, long-term and painful sessions with unpredictable and unsafe results; not anymore. Innovative Soprano ICE Laser Hair Removal System was developed to get rid of unwanted hair growth fast, easily and with as few sessions as possible.
By targeting the hair follicle with soft laser pulses, almost every part of your body can be depilated smoothly and safety.
With brush technique (multiple repetitive vertical lines to completely cover the area) the Super Hair Removal motion of the laser head makes treatment really painless and effective.
SUPER HAIR REMOVAL
Alma Lasers, always a pioneer in technological innovation in the field of aesthetic medicine and laser, makes once more the difference with two new technological advances, to offer you the most comfortable laser hair removal experience you've ever had.
Super Hair Removal technology gradually heats hair follicle under the skin until new hair can no longer grow (stem function of the cell responsible for hair growth is fully inhibited).
As the laser head is in constant motion, the area of treatment is widened and hence treatment is much shorter.
Eventually, thanks to Alma Lasers patented DualChill™ cooling system, burn risk is prevented and the most painless and effective hair removal treatment is made possible.